A complex disorder of the reproductive tract that impacts other systems in the body. Endometriosis is a chronic condition whereby the tissue lining of the womb grows outside of the womb. During the menstrual cycle, as hormones fluctuate, in particular oestrogen, this tissue is stimulated as if it were in the womb, growing, breaking down and bleeding. This causes inflammation and tissue scarring which leads to severe pain.
The symptoms of Endometriosis can be life impacting and the most common symptoms are:
+ Pain during periods, sex, ovulation, bowel movements and urination.
+ Chronic pelvic pain, bloating, constipation, diarrhoea, nausea and fatigue.
+ Heavy periods or bleeding in between periods
+ Fatigue
+ Depression and anxiety.
+ Fertility challenges
There is not a definitive cause and unfortunately no cure for Endometriosis and any treatments are focussed on alleviating symptoms. A healthy diet and lifestyle can help the body lower inflammation, balance hormones and boost immunity.
Endo complete support is a unique custom formulation that provides nutritional support specifically targeting the key triggers. From addressing common deficiencies with vitamin D and vitamin E to supporting the body's natural detoxification process with indole 3 carbinol, broccoli extract and milk thistle. Magnesium is included to help with discomfort alongside turmeric to help with inflammation and to promote a healthy immune system.
All delivered via easy to swallow capsules, 2 to be taken everyday.
60 capsules provides 30 servings.
Inflammation
Endometriosis is an inflammatory disease. Research shows that people with Endometriosis have lower levels of antioxidants. Antioxidants play a crucial role in counteracting damage from inflammation and oxidation. Our formula contains vitamin E, an antioxidant that has been shown to help reduce pelvic pain, both during sex and during menstruation. It also includes turmeric which can help to control inflammation and NAC, an amino acid and powerful antioxidant.
Severe Discomfort
Severe pain is a life impacting symptom of Endometriosis. Our formula contains magnesium, a muscle relaxant known as nature's tranquilliser which can have a beneficial effect on severe discomfort. Vitamin B6 is also included to help with pelvic cramps.
Hormonal Balance + Liver Function
Endometriosis is an oestrogen-dependent disease. It is thought that people with the disease have a hormone imbalance dominated by oestrogen. We've included broccoli sprouts and indole 3 carbinol which aid liver detoxification to eliminate excess hormones. Our formula also includes the well known herb milk thistle, which has been traditionally used to help the liver.
Digestive Health
Gut issues such as bloating, constipation, diarrhoea and nausea are another symptom of the disease. An imbalance of gut bacteria can cause digestive issues and in Endometriosis if digestion isn't working this can mean that excess oestrogen doesn't get excreted. Our formula includes lactobacillus acidophilus, a probiotic that can restore gut bacteria. As well as calcium d-glucarate, a calcium salt, which aids detoxification of oestrogen as well as gut issues.
Immune Support
It is thought that Endometriosis is an autoimmune disease and those with the disease have disrupted immunity. Our formula includes turmeric of which curcumin is an active component and may help to maintain a healthy immune system.
Reproductive Health
The quality of eggs can be damaged from inflammation in the body. Our formula includes NAC, which can help improve regular ovulation and protect eggs.
All health claims are European EFSA health claims and GB nutrition and health claims (NHC) or botanical "on hold" health claims.
+ Take 2 capsules daily, preferably with a meal.
+ Food supplements should not be used as a substitute for a varied and balanced diet and healthy lifestyle. 
+ If you are under medical supervision, taking any medications, pregnant, nursing, or planning a pregnancy, please consult your healthcare professional before taking this product.
+ Once you have finished your supply, make sure to recycle your pouch.
Not all vitamins are created equal.. 
Did you know that there are many different forms of each nutrient?  Some cheaper vitamins and supplements are often not easily absorbed by the body- you might not be getting the benefits you expect. 
At Yoppie we select the best research backed forms of each ingredient that are best absorbed by the body to give you optimum benefits. 
Our ingredients are approved by the European Food Safety Authority which means their health benefits have been researched and studied. 
Our targeted approach to nutritional support means we carefully select the best ingredients for your symptoms.  A one size fits all just won't do when it comes to your menstrual health.  Each formula is reassuringly bespoke. 
Imagined, developed and created in the UK with a team of experts in their fields.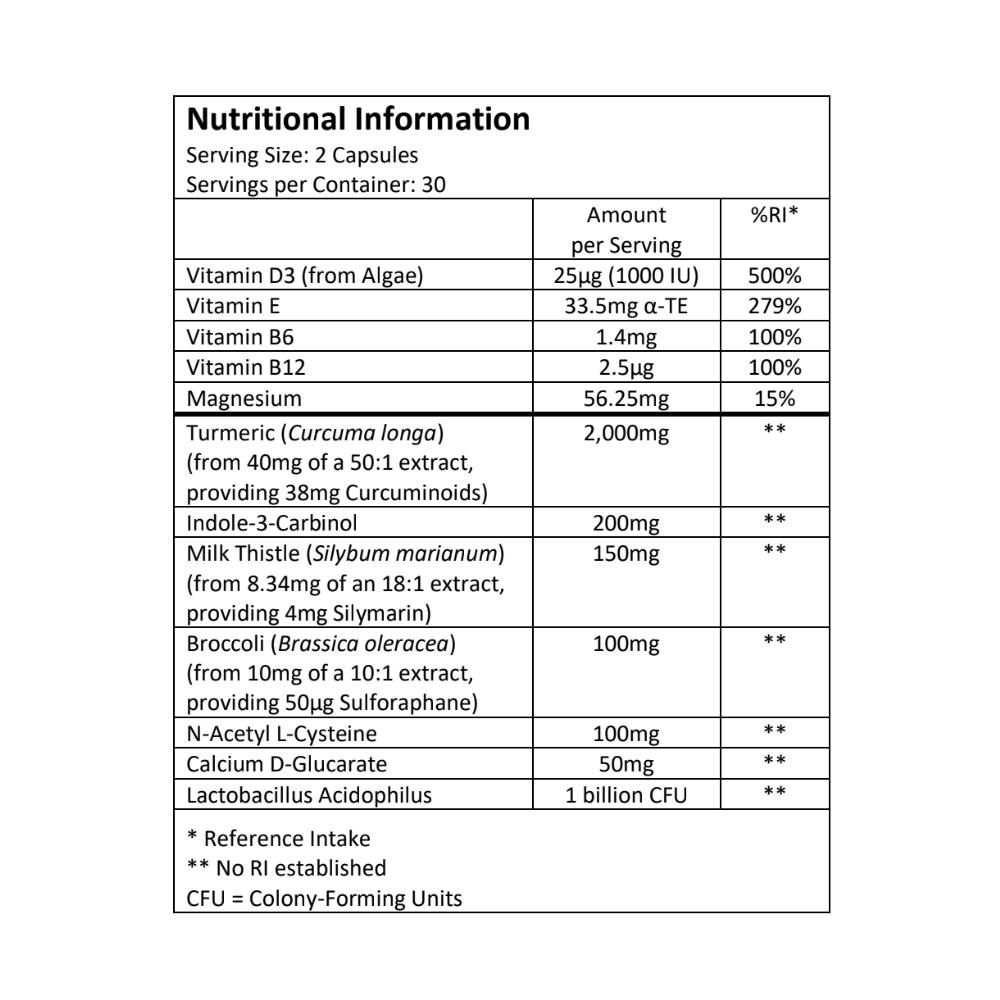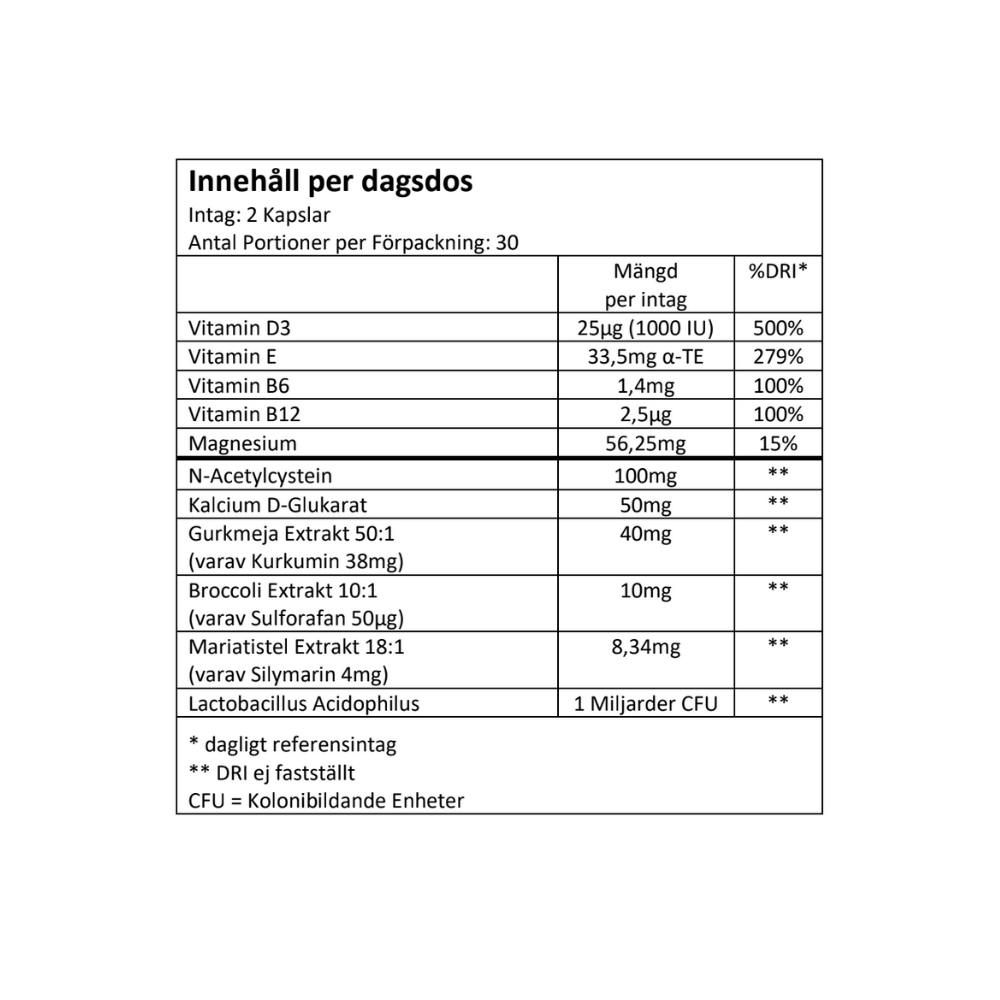 Magnesium Bisglycinate, Brown Rice Flour, Indole-3-Carbinol, Capsule Shell (HydroxyPropyl MethylCellulose), N-Acetyl-L-Cysteine, Calcium D-Glucarate, Vitamin E (D-Alpha Tocopherol Succinate), Turmeric Extract, Vitamin D3 (Cholecalciferol), Broccoli Extract, Milk Thistle Extract, Lactobacillus Acidophilus, Pyridoxine Hydrochloride, Vitamin B12 (Methylcobalamin).
Ingredienser: Magnesiumbisglycinat, Brunt Rismjöl, Vegetabilisk Kapsel (Hydroxypropylmetylcellulosa), N-Acetylcystein, Kalcium D-Glukarat, Vitamin E (D-Alfa Tokoferolsuccinat), Gurkmeja (Curcuma longa) Extrakt 50:1, Vitamin D3 (Kolecalciferol från Alger), Broccoli (Brassica oleracea) Extrakt 10:1, Mariatistel (Silybum marianum) Extrakt 18:1, Lactobacillus acidophilus, Pyridoxine Pyridoxinhydroklorid, Vitamin B12 (Metylkobalamin)
Is delivery free?
Yes – on every order
What are the delivery options?
We have two options; subscription or one time purchase. 
With a subscription you can edit, pause or cancel at any time, simply login to your account.
We'll send you a reminder before every delivery to give you time to edit your box. 
Alternatively, select 'just once' at checkout.
How soon will I get my first box?
Want your products asap? Choose the soonest available delivery date & you will receive within 2-3 working days. 
Where do you deliver to?
We are currently shipping to the UK (including the Isle of Man, Channel & Scottish islands) Ireland and Sweden.
If I already have a Yoppie box, how do I add products to my order? 
It's easy! Just login to your account and select edit to add your desired products.