10 powerful ingredients: 
Ginger
+ Helps to manage inflammatory responses and may help promote normal balance of inflammatory hormones [prostaglandins].* 
+ Helps to maintain mobility of joints*
Magnesium 
+ Contributes to normal muscle function and function of the nervous system*
Pine bark extract 
+ Helps maintain good health by protecting cells & tissues through its antioxidant property.*
Zinc 
+ Contributes to the protection of cell constituents from oxidative damage.*
Vitamin K 
+ Contribute to maintenance of normal bone.*
Black Pepper Extract 
+ Promotes blood circulation* 
Vitamin B2
+ Contributes to the normal function of the nervous system*
Vitamin B6
+ Contributes to normal psychological functions*
Vitamin C 
+ Contributes to the normal function of the nervous system.*
Vitamin D 
+ Contributes to the normal healthy inflammatory responses.*
+ Contributes to the maintenance of normal muscle function.*
*All health claims are European EFSA health claims and GB nutrition and health claims (NHC) or botanical "on hold" health claims.
+ Take 1 capsule daily, preferably with a meal. 
+ Food supplements should not be used as a substitute for a varied and balanced diet and healthy lifestyle. 
+ If you are under medical supervision, taking any medications, pregnant, nursing, or planning a pregnancy, please consult your healthcare professional before taking this product.
+ Once you have finished your supply, make sure to recycle your pouch.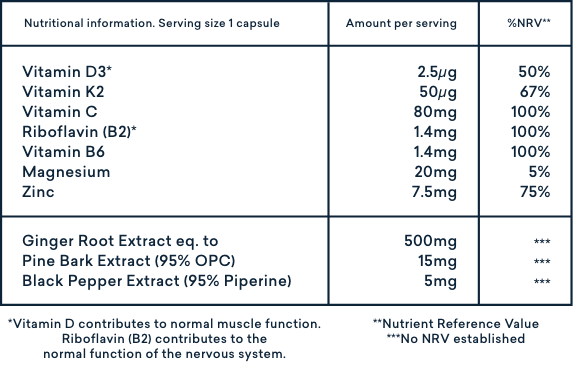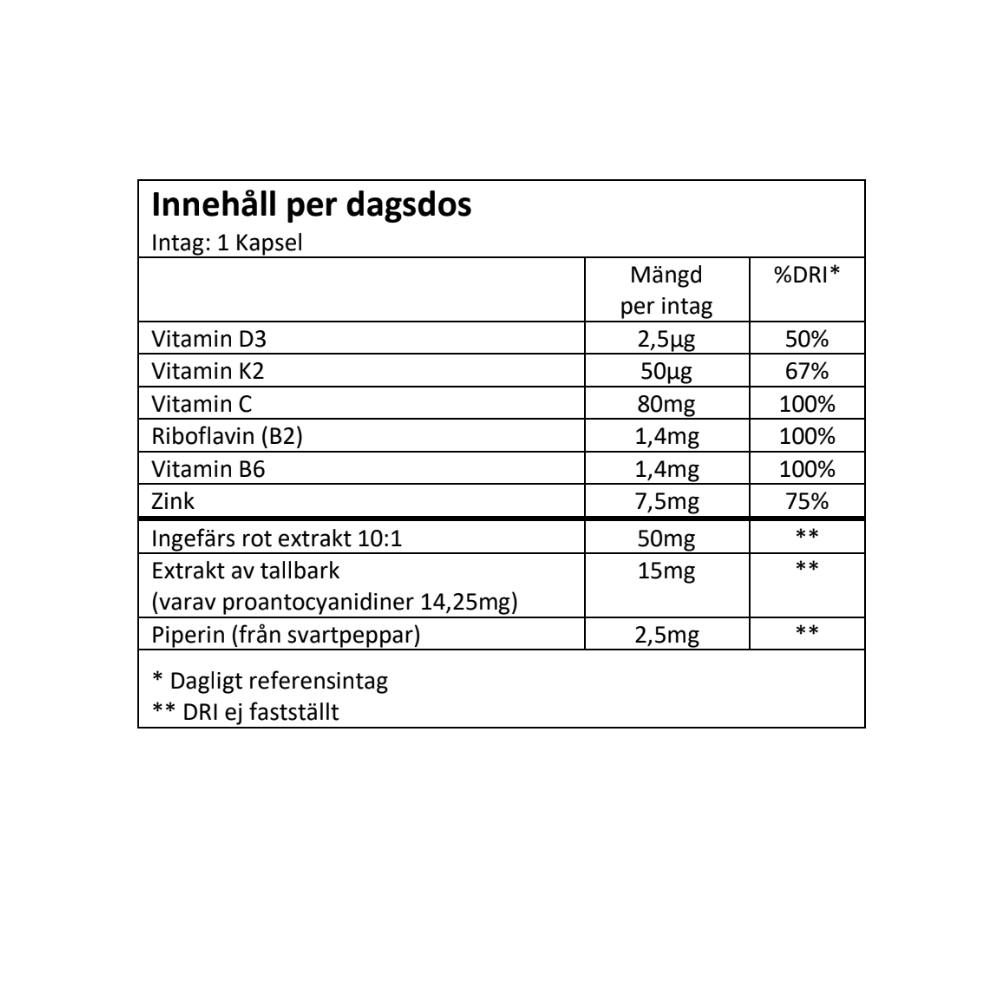 Bulking Agent (Brown Rice Flour), Magnesium Citrate, Empty Capsule Shell (HydroxyPropyl MethylCellulose), Vitamin C (Ascorbic Acid), Zinc Citrate, Pine Bark Powder, Vitamin K2 Menaquinone-7, Anti-Caking Agent (Magnesium Stearate), Black Pepper, Ginger, Vitamin B6 (Pyridoxine Hydrochloride), Vitamin B2 (Riboflavin), Vitamin D3.
Ingredienser: Magnesiumcitrat, Vegetabilisk kapsel (hydroxypropylmetylcellulosa), Vitamin C (askorbinsyra), Rismjöl, Ingefärs rot (Zingiber officinalis) extrakt 10:1, Zinkcitrat, Extrakt av tallbark (Pinus massoniana) (95% proantocyanidiner), Extrakt av svartpeppar (95% piperin), Vitamin K2 (MK-7), Pyridoxinhydroklorid, Riboflavin, Vitamin D3 (kolekalciferol)
Is delivery free?
Yes – on every order
What are the delivery options?
We have two options; subscription or one time purchase. 
With a subscription you can edit, pause or cancel at any time, simply login to your account.
We'll send you a reminder before every delivery to give you time to edit your box. 
Alternatively, select 'just once' at checkout.
How soon will I get my first box?
Want your products asap? Choose the soonest available delivery date & you will receive within 2-3 working days. 
Where do you deliver to?
We are currently shipping to the UK (including the Isle of Man, Channel & Scottish islands) Ireland and Sweden.
If I already have a Yoppie box, how do I add products to my order? 
It's easy! Just login to your account and select edit to add your desired products.