A common condition that affects how the ovaries work. Polycystic ovary syndrome has 3 main features; polycystic ovaries, where ovarian follicles are underdeveloped so ovulation doesn't always take place, irregular or absent periods and excess androgens.
The most common symptoms of PCOS are:
+ Hirsutism; male pattern facial or body hair
+ Loss of hair on the head in a male pattern
+ Irregular or absent periods
+ Difficulty in managing weight
+ Acne
+ Fertility difficulties
Lesser known symptoms are:
+ Fatigue
+ Poor mental health
+ Insomnia
+ Pelvic pain
The exact cause of PCOS is unknown, it is thought to be genetic or related to insulin resistance and hormonal imbalances. There is no cure for the condition, but symptoms can be managed through a healthy lifestyle and diet.
Getting the right nutritional support to help with the symptoms of PCOS can be a minefield. Symptoms vary wildly from person to person and finding out everything you need to make your symptoms more manageable can seem impossible.
Yoppie's unique custom formulation offers all the nutritional support you need to make life with PCOS easier. From addressing common deficiencies with vitamins D3 and B2, to reducing insulin resistance with myo inositol and chromium, and supporting ovulation and reproductive health with folate and zinc, our all-in-one PCOS supplement does it all.
Even better, it comes in a delicious easy to use powder for maximum absorption and easy consumption; delivered to your doorstep each cycle along with all your other menstrual care needs.
150g provides 30 servings.
Insulin resistance
Up to 70% of people with PCOS are believed to be insulin resistant.  Our formula includes 4000mg of myo inositol and 100ug of chromium to assist the body to use insulin more effectively, balancing blood sugar levels to reduce insulin resistance. 
Metabolism 
B vitamins can be useful for controlling weight.  Any deficiencies in these vitamins can affect thyroid function and consequently affect the metabolism.  Our formula includes vitamins B2, B3, B5 and B6. 
Hormone balance 
Many people with PCOS have an imbalance in hormones, specifically testosterone, luteinising hormone, sex-hormone binding globulin and prolactin.  Our formula includes NAC, vitamin B6 and zinc to help balance these hormones.  As well as vitamins B2, B3 and B5, important support for the liver to process excess hormones. 
Skin and hair health 
Too much testosterone is another symptom of PCOS.  This can cause hirsutism which is excess facial and body hair as well trigger the production of sebum in the skin which can lead to acne.  Our formula includes NAC to help balance testosterone levels and zinc, an anti inflammatory to reduce swelling, redness and irritation and contribute to normal skin and hair health.  
Fatigue 
A common lesser known symptom of PCOS is persistent fatigue which is linked to insulin resistance.  We've included vitamin C, vitamin B2, B3, B5, B6 and folate which contribute to the reduction of tiredness and fatigue. 
Reproductive health and irregular periods
There is a high prevalence of vitamin D deficiency in people with PCOS, which can exacerbate symptoms.  In particular, ovulatory and menstrual irregularities associated with fertility difficulties.  We've included vitamin D at 100% of the recommended intake, the formula also includes folate and molybdenum which can enhance the function of the ovaries. 
Mental health 
The many symptoms of PCOS can have a negative effect on mood and self esteem.  People with PCOS are more likely to experience depression and anxiety.  It's important to support your mental health as well as your physical health.  Folate, vitamin c and vitamins B2, B3, B5 and B6 contribute to normal psychological function, functioning of the nervous system and normal mental performance. 
All health claims are European EFSA health claims and GB nutrition and health claims (NHC) or botanical "on hold" health claims.
+ Take 1 teaspoon (5g) daily 
+ Stir into water, milk or smoothies. 
+ Sprinkle into porridge.  
+ Avoid very hot food or drinks as this can reduce the effectiveness of the nutrients.
+ Food supplements should not be used as a substitute for a varied and balanced diet and healthy lifestyle. 
+ If you are under medical supervision, taking any medications, pregnant, nursing, or planning a pregnancy, please consult your healthcare professional before taking this product.
+ Once you have finished your supply, make sure to recycle your pouch.
Not all vitamins are created equal.. 
Did you know that there are many different forms of each nutrient?  Some cheaper vitamins and supplements are often not easily absorbed by the body- you might not be getting the benefits you expect. 
At Yoppie we select the best research backed forms of each ingredient that are best absorbed by the body to give you optimum benefits. 
Our ingredients are approved by the European Food Safety Authority which means their health benefits have been researched and studied. 
Our targeted approach to nutritional support means we carefully select the best ingredients for your symptoms.  A one size fits all just won't do when it comes to your menstrual health.  Each formula is reassuringly bespoke. 
Imagined, developed and created in the UK with a team of experts in their fields.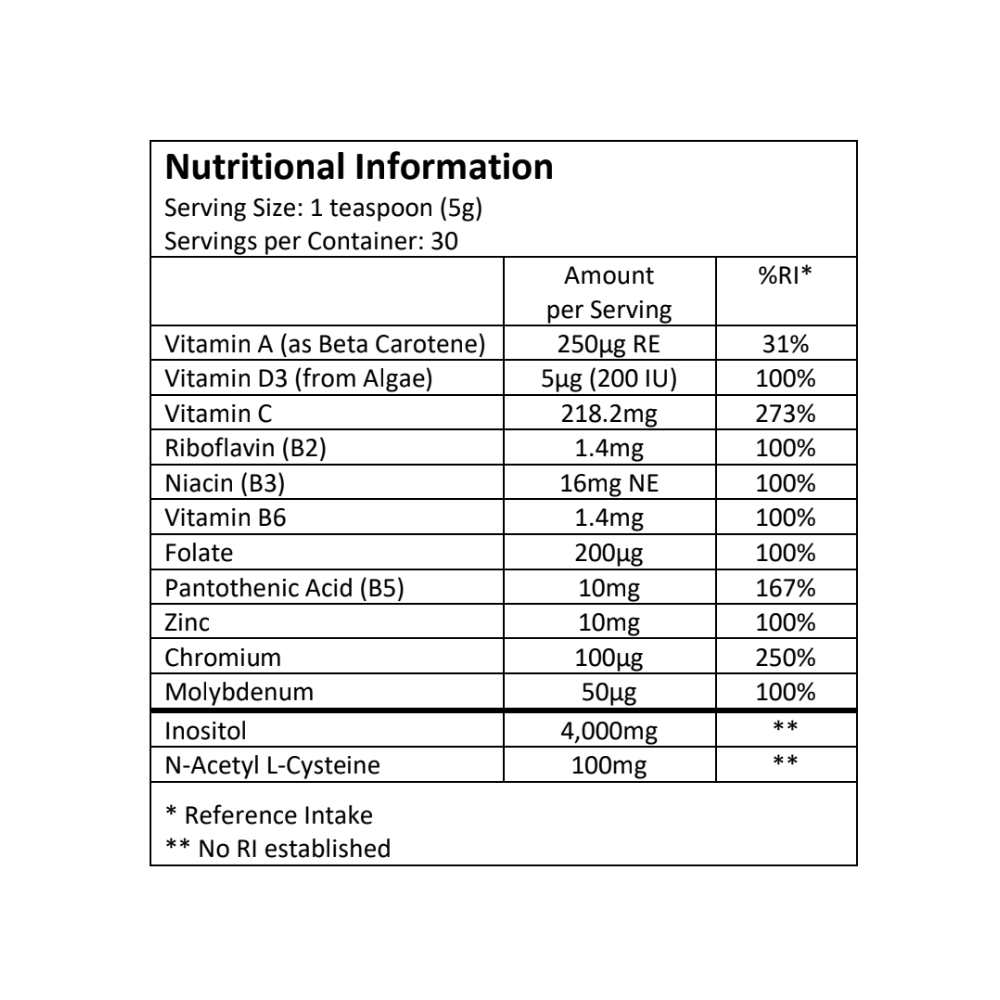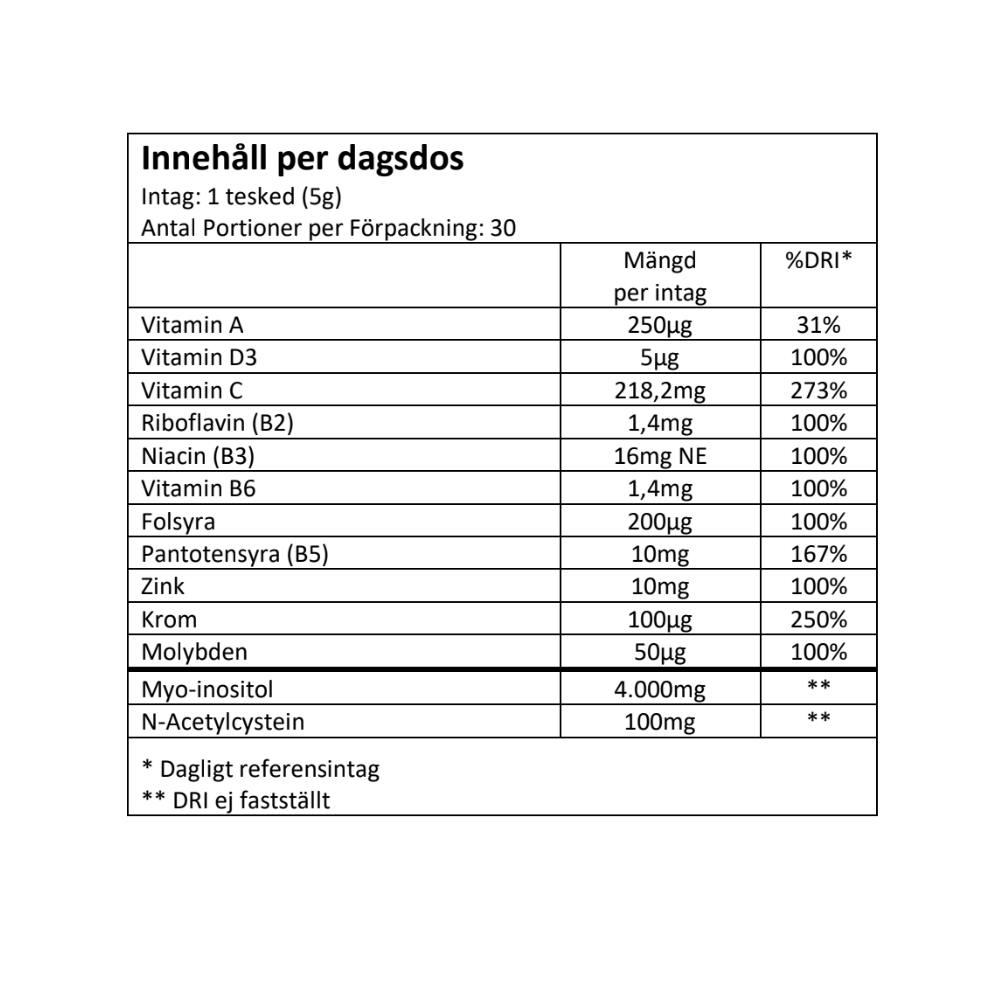 Myo Inositol, Flavouring (Strawberry), Vitamin C (Ascorbic Acid), N-Acetyl-L-Cysteine, Sweetener (Steviol Glycosides from Stevia), Zinc Citrate, Nicotinamide, Calcium-D-Pantothenate, Beta Carotene, Vitamin D3 (Cholecalciferol), Pyridoxine Hydrochloride, Riboflavin, Chromium Picolinate, Calcium L-Methylfolate, Sodium Molybdate.
Ingredienser: Myo-inositol, Arom (jordgubbe), Vitamin C (askorbinsyra), N-Acetylcystein, Sötningsmedel (steviolglykosider från stevia), Zinkcitrat, Nikotinamid, Kalciumpantotenat, Vitamin A (betakaroten), Vitamin D3 (kolecalciferol), Pyridoxinhydroklorid, Riboflavin, Krompikolinat, Kalcium-L-metylfolat, Natriummolybden
Is delivery free?
Yes – on every order
What are the delivery options?
We have two options; subscription or one time purchase. 
With a subscription you can edit, pause or cancel at any time, simply login to your account.
We'll send you a reminder before every delivery to give you time to edit your box. 
Alternatively, select 'just once' at checkout.
How soon will I get my first box?
Want your products asap? Choose the soonest available delivery date & you will receive within 2-3 working days. 
Where do you deliver to?
We are currently shipping to the UK (including the Isle of Man, Channel & Scottish islands) Ireland and Sweden.
If I already have a Yoppie box, how do I add products to my order? 
It's easy! Just login to your account and select edit to add your desired products.